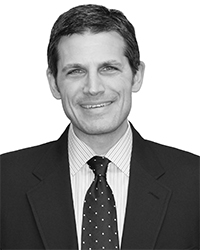 Charles M. Baum is a member of the firm's litigation group, where he practices in the areas of general and commercial civil litigation.  He has tried more than 200 cases, before both bench and jury. Chuck represents his clients in all areas of litigation including matters based on contract, warranty, fraud, franchising, civil rights, foreclosure, collection, malpractice, negligence, environmental violations, construction and real estate development.
Mr. Baum's practice also includes the representation of municipalities and property owners in eminent domain matters. Prior to joining Ginsberg Jacobs, Chuck was a member at Dykema and a prosecutor for Will County, Illinois.
Commercial/Business Litigation
Commercial matter involving cross allegations of breach of a multi-million dollar management contract. Matter also involved causes of action for fraudulent misrepresentation, fraudulent concealment and piercing the corporate veil based on commingling and under-capitalization of assets. Negotiated favorable settlement after significant nationwide discovery.
Defense of multi-million dollar commercial matter involving client's alleged breach of a contract under which client built purportedly defective motors. Case also involved the prosecution of counterclaims against the plaintiff for breach and a third-party contribution claim against one of client's suppliers for supplying defective parts which were the root cause of the motor failures. Negotiated favorable settlement after significant nationwide discovery.
Successful defense of client in an action by a losing bidder which sought to set aside the successful bid for a public project based on unfounded allegations of bid-rigging. Ruling allowed project to immediately proceed.
  Prosecution of breach of contract action involving the issue of whether client had a binding contract based upon correspondence during bidding process. Negotiated settlement at mediation after extensive written and oral discovery.
Real Estate and Construction Litigation
Judgment after trial for property owner client against general contractor. Matter involved client's claim of more than fifty construction defects as well as alleged fraudulent conduct by the contractor. Case also involved several expert witnesses, including contractors and an architect.
 Prosecution of a significant claim for property developer client against contractor based on construction defects and improper construction methodology. Gained favorable settlement for client after discovery revealed the improper methodology, lack of expertise of contractor in the application despite contractual recital of such expertise, and unskilled staffing of job.
Several bench and jury trials of eminent domain matters for real estate developer clients. Obtained awards exceeding the government offers, including a jury award more than $100,000 over the offer and a bench trial award for industrial developer five times more than the initial offer.
Defense of real estate developer client in an environmental action brought by the IEPA alleging various violations in the development of a residential subdivision.
Defense of several quiet title claims for title insurance company client involving alleged forgeries of quit claim deeds and other misconduct.
Building code violation matters for industrial and developer clients.
Landlord-tenant disputes for real estate developer client.
Intellectual Property/Franchise Litigation
 Defense of matter for restaurant franchisee involving trademark infringement, breach of contract and non-competition clause. Client's motion for summary judgment granted as to breach of contract, while opposition's motion for summary judgment denied on count seeking to enforce non-competition clause and shut down client's operations. Reported at Jake Flowers, Inc. v. Kaiser, 2002 WL 31906688 (N.D. Ill. 2002).
Defense of matter for truck rental franchisee involving alleged trademark infringement, breach of contract and violations of non-competition clause.  Successfully prevented the issuance of temporary restraining order seeking to shut down client's operations.
Prosecution of matter for national retail franchisor involving trademark infringement, breach of contract and non-competition clause. Negotiated resolution of matter during hearing on motion for temporary restraining order which set restrictions on opposition's operations.
Infringement matter as to client's distributor's improper use of intellectual property of client, including counterfeiting of parts and conversion of royalties owed to client.
Notable Insurance Defense Litigation
Successful jury verdict for whistleblower client in defense of defamation case filed by corporate executive based upon client's alleged false statements to a federal agency regarding the executive's involvement in the improper handling of federally-sponsored funds. Jury found that client's statements were not defamatory due to the truth of the client's assertions as to the executive's actions.
Successful dismissal of civil rights and conspiracy causes of action based on alleged wrongful acts by client against its former employees.
Judgment for corporate defendant on malicious prosecution and false arrest causes of action based on alleged wrongful acts by client against its former employees.
Financial Services Litigation
Trial of matter based on defendant's misuse of a banking client's confidential customer information and defendants' unlawful conversion of bank funds. Matter settled during trial based on evidence presented at trial, with the bank obtaining a court order barring the opposition's use of the confidential information and requiring removal of the information from the opposition's servers.
 Prosecution of several matters for banking clients seeking the collection of amounts owed on commercial and personal loans. Counseled clients on likelihood of recovery and advised client as to which claims it should pursue on cost-benefit analysis.
Matter involving the issue of whether communications between the parties during negotiation of a commercial loan, including a signed letter of intent, established the existence of a loan agreement. Negotiated speedy resolution of matter after informal discovery.
Commercial matter seeking declaratory judgment for banking client regarding its rights under an Article 9 sale as against competing claimant with respect to income stream under several contracts. Negotiated resolution of matter setting forth past entitlement as well as future rights to the stream.
Employment Litigation
Defense of corporate clients against allegations of corporate misconduct brought by former employees, including the prosecution of claims against former employees for breach of fiduciary duty.
Prosecution of Seventh Circuit appeal in employment discrimination matter alleging disparate pay. Case involved the question of whether a single injury occurs upon the pay rate decision, or whether a different injury occurs for each and every disparate paycheck. Obtained reversal of case for client. Reported at Reese v. Ice Cream Specialties, Inc., 347 F.3d 1007 (7th Cir. 2003).
 Defense of multi-million dollar breach of contract and restrictive covenant action involving asset purchase agreements and employment agreements among various insurance companies, agencies, and employees.
Asset Recovery Litigation
Pursuit of multi-jurisdiction post-judgment asset collection matter against several affiliated companies for breach of service contracts. Coordinated service of citations in order to facilitate time-sensitive freezes of debtor's assets. Collection efforts yielded significant frozen assets which led directly to a favorable settlement in excess of one million dollars.
Pursuit of post-judgment matters against debtors by analyzing financial statements, bank records, corporate records and tax filings in seeking assets. Obtained turnover orders for clients providing for assets to be applied to judgments.
Various matters seeking to set aside fraudulent conveyances and to pierce corporate veils based on financial misconduct.
Health Care Litigation
Pursuit of several breach of contract matters on behalf of health care client related to the providing of health care staffing services.
Pursuit of several breach of service agreement matters on behalf of health care clients related funds owed for health care services.
Defense of health care facility in action brought by relatives of a facility resident seeking a court injunction dictating that the court, not medical professionals, decide the level of care. Obtained dismissal of matter for client.
Investigations
Assist clients on internal investigations of employee conduct, including employee interviews and document review.
Assist clients on external investigations by government entities.
Practice Areas
Education

Enter schools attended / degrees held

John Marshall Law School, J.D.
DePaul University, B.S.
Court Admissions

U.S. Supreme Court
U.S. Court of Appeals for the Seventh Circuit
U.S. District Court for the Northern District of Illinois
U.S. District Court for the Central District of Illinois
Publications

"Persuasive Strategies: Pleading Your Case to Judges and Juries", Inside the Minds: Courtroom Strategies, Aspatore, 2008
Noteworthy

John Marshall Law School, Adjunct Professor