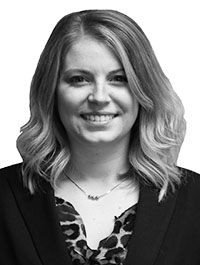 Lauren M. Ortega
Tel: 312.660.9630
Fax: 312.660.9612
Email: lortega@ginsbergjacobs.com
Download vCard »

LinkedIn Profile »
Lauren M. Ortega primarily practices in the areas of real estate and telecommunications. She represents clients in lease negotiations with large institutions, major tower companies, private landowners, and municipalities. Lauren has experience in all aspects of the acquisition and disposition of wireless facilities, including conducting zoning presentations. She also negotiates agreements for emerging technologies in the telecommunications industry, including Distributed Antenna Systems (DAS) and small cells.
Ms. Ortega's secondary focus is in the area of trusts and estates.  She assists individuals with all aspects of trust and estate planning, asset protection, generational planning, and wealth preservation.  As an associate with the firm's Trusts and Estates practice, Ms. Ortega aids partnership in counseling families, unmarried couples, and individuals in developing holistic estate planning, structured for tax efficiency, with care to address unique family circumstances, including elder law issues and special needs planning
Prior to joining Ginsberg Jacobs, Lauren acted as a site acquisition lead for a telecommunications site development company, where she managed wireless infrastructure projects in Illinois, Ohio, New York, Pennsylvania, and Wisconsin.
Ms. Ortega received her Juris Doctor from the Chicago-Kent College of Law in 2011. Prior to attending law school, Lauren received her Bachelor of Arts in Psychology from the University of Michigan in 2008.
Practice Areas
Education

Enter schools attended / degrees held

Chicago-Kent College of Law, J.D., 2011
University of Michigan, B.A., 2008
Memberships

Chicago Bar Association
Illinois State Wireless Association
Big Shoulders Fund