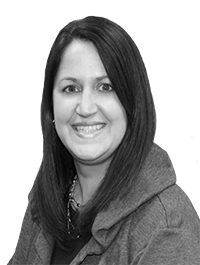 Michele L. Krause
Tel: 312.660.9617
Fax: 312.660.9612
Email: mkrause@ginsbergjacobs.com
Download vCard »
Download Profile (PDF) »

LinkedIn Profile »
Michele L. Krause has more than twenty-five years of experience in commercial real estate and finance law. As the Partner responsible for overseeing the Firm's general leasing practice, Michele represents institutional and entrepreneurial clients in sophisticated commercial real estate transactions, including the acquisition, disposition, and leasing of commercial, office and industrial properties, with a particular focus on retail and office leasing on behalf of both landlords and tenants. She also represents developers of multi-family and self-storage properties in connection with their acquisition, development, leasing, and disposition of these types of properties. Michele also has extensive experience representing owners, purchasers, and tenants in connection with the legal issues arising from environmentally contaminated properties, including the responsibility for ongoing reporting and remediation requirements, indemnification, access and third party liability issues.
Michele began her legal career as in-house counsel to BP, plc (formerly Amoco Corporation). Prior to joining Ginsberg Jacobs LLC, she practiced at Holland and Knight, LLP and was a partner at Levenfeld Pearlstein, LLC.
Practice Areas
Education

Enter schools attended / degrees held

Chicago-Kent College of Law, Illinois Institute of Technology, J.D., 1994
Illinois State University, B.S., Criminal Justice, with Departmental Honors, 1991
Court Admissions

U.S. District Court, Northern District of Illinois
Memberships

American Bar Association
Commercial Real Estate Executive Women (CREW), Chicago Chapter
CREW Network
International Council of Shopping Centers (ICSC)
Publications

Author of "Co-Tenancy Clauses in a Changing Retail Landscape" (Commercial Property Executive, November 5, 2018)
Author of "Ten Ways to 'Green' A Commercial Lease" (The Business Ledger, October 13, 2008, Vol. 16, No. 21)
Co-author of "Avoiding Purchase Option Pitfalls" (Property Writes, second quarter, vol. 8, issue 2)
Co-author of "Filling the Purchase Option 'Gap': Preservation for Suspension of Rental Income and Other Lease Rights After Exercising the Option and Prior to Closing" (The Real Estate Finance Journal, Winter 2005)
Contributor to "When Is Real Property Exempt From Property Taxes? A "View to Profit" May Defeat the Tax Exempt Status of Real Property Used for Educational Purposes" (Property Writes, first quarter, vol. 9, issue 1)
Quoted in numerous publications (such as Midwest Real Estate News, GlobeSt.com, Shopping Center Business, REJournals) on various topics in retail leasing including co-tenancy provisions, smaller store formats, and the need for landlord and tenants to embrace change in the market.
Noteworthy

Named as a Leading Lawyer in Commercial Real Estate Law by Leading Lawyers Network (2010-2019)
Named in 100 Leading Women Real Estate Related Lawyers in Illinois (January 2017 & 2019)
Commercial Real Estate Executive Women (CREW), Chicago Chapter Board of Directors, Secretary (2010-2013)
Mentor for the Lawyer-to-Lawyer Mentoring Program, John Marshall Law School (2015-2016)
Mentor for the Goldie B. Wolfe Miller Women Leaders in Real Estate Initiative, Roosevelt University (2010-2013)
Panelist at The Business Ledger's September 11, 2008 Newsmakers' Forum - "The Environment, Energy & Business"
Recipient of the CREW 2008 Membership Committee Volunteer of the Year Award