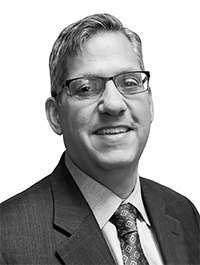 Though Bill has more than 20 years' experience as both an accomplished litigator and restructuring lawyer, first and foremost he is a problem solver.
His practice is dynamic. On the litigation side, Bill is a trial-tested litigator who understands that solving matters outside the courtroom is preferred. Though he works with clients to avoid the courtroom whenever possible, he is also prepared to litigate and take a case to trial when necessary. A big part of Bill's practice is loss mitigation, meaning helping his clients avoid problems so litigation is avoided. On the restructuring side, Bill represents all parties–debtors, creditors, committees, individuals, trustees, and shareholders–in bankruptcy cases throughout the country and out-of-court workouts. His clients range from banks to hedge funds to corporations and also include individuals and family groups. Bill has also represented assignees, handled assignments for the benefit of creditors, and prosecuted and defended hundreds of "preference" cases in bankruptcy court.
Prior to joining Ginsberg Jacobs, Bill has been a partner at DLA Piper, LLP, Neal, Gerber & Eisenberg LLP, and Fox Rothschild LLP. Bill has received the Award for Excellence in Pro Bono Service from the Chief Judge of the U.S. District Court for the Northern District of Illinois, the highest pro bono honor bestowed by the court. Bill received the award for his work on the landmark case Ligas v. Maram, a class action civil rights case that both protected and expanded living options for those with developmental disabilities in Illinois.
Practice Areas
Education

Enter schools attended / degrees held

Harvard Law School, J.D., 1994
University of Illinois, B.S., Accounting, Summa Cum Laude, 1990
Bar Admissions

Illinois
Colorado (Inactive)
Alaska (Inactive)
Court Admissions

Northern District of Illinois
Eastern District of Michigan
7th Circuit Court of Appeals